How to protect yourself from fraud and incompetence of a stretch ceilings
The modern market as consumers, we are with you, conceals many dangers associated with poor quality goods and services. Is no exception and the market suspended ceilings. Due to the increased popularity, the market there are many installers self-taught without an office, site, and instrument.


The ceilings are made of cheap PVC film for general purpose and non-professional teams of installers are mounted. Very often, these teams are selling "homemade" ceilings under the brand name "109", often at very low prices. Which in turn attracts many naive customers who are in the latter very much regret his decision, because after installing such bogus firms disappear just as they had appeared, and the client is left alone with their problems by further service ceilings.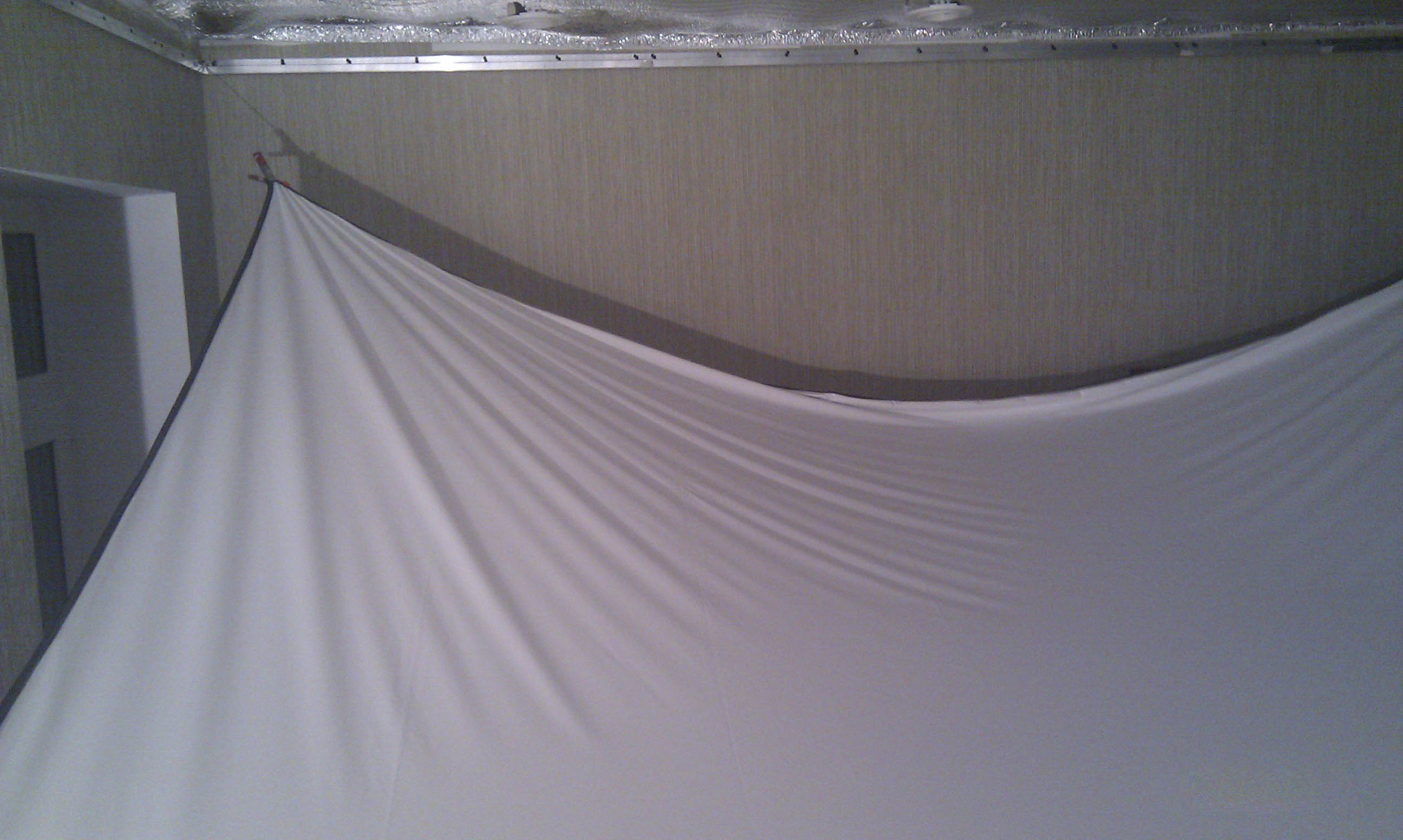 This situation prompted us to place a kind of reminder to the consumer to choose conscientious installer of suspended ceilings. All installers of suspended ceilings are divided into three main groups:
- Direct manufacturers of suspended ceilings - is the company that are directly related to the production and installation of suspended ceilings, have their own production and storage capacity, working directly with the manufacturers of film and other raw materials for the production ceilings. Their managers, installers and equipment;
- Certified dealers - individuals or firms who were trained in the firm-producer and are certified to carry out work on the assembly and installation of suspended ceilings from a particular company;
- Former managers of the company and former installers - people who for one reason or another were kicked out of the manufacturers or authorized dealers, mainly because of poor service, theft, etc. It is they who are the main threat to consumers as having certain knowledge gained while working in a particular company, they strive for a quick profit, often posing as authorized dealers or manufacturers. They are only getting an advance payment, forget about the customer and often simply disappear before the end of the work left unfinished or not making it qualitatively. And your warranty at all out of the question.

the presence of the registered firm;

having an office with the representation of the samples of the proposed ceiling system;

availability of their storage facilities;

availability of necessary equipment and tools for measuring and installation;

due to the presence of not only mobile, but the city phone and fax numbers;

Availability pictures really work performed (and not the photos taken from the internet);

of competent management staff to work with clients;

availability of professional teams that efficiently and quickly perform measurements and all work on the further installation of stretch ceiling;
Be careful and remember:


Qualitative suspended ceiling, especially French, and quality installation can not be cheap - it's true, is not self-evident. Qualitative suspended ceiling made of expensive European materials, and professional teams receive a decent wage!
Our company "Nine Hundred" meets all of the criteria described above operates in the market of stretch ceilings since 2005 and today is one of the leaders on the Ukrainian market, has its manufacturing facilities, an extensive dealer network throughout Ukraine and abroad.
Our path to fame was difficult and thorny, and these successes we have achieved only thanks to the fact that always put the interests of customers who appreciate the quality and efficiency of our services, but at the same time were pleasantly surprised with our Privacy Policy.
We can be trusted. Why? Not least because we have something to lose, we are responsible for the quality of work performed by our name and position. We're not looking for a one-time gain, we are more valuable satisfied customers, who are the best advertisement for our company.
Seek professional advice. You'll save time, nerves, health, and, ultimately, money.
If you have any questions - please call +380 (44) 332-7670, 599-05-07, or you can find all the information you need on our website http://109.com.ua
Best regards, Nine Hundred.